Win a FREE week at Ohio Dreams
April 12, 2012
Ohio Dreams goes Viral Caption Contest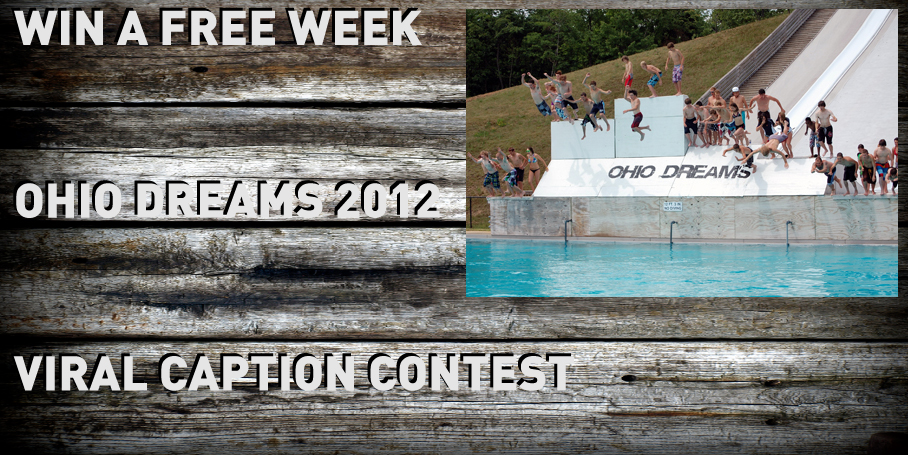 We are giving away a Free week of camp valued at $850.
1st place: One Free Week at Ohio Dreams durining our 2012 Camp Season
2nd place: $100 off one week of camp during our 2012 Camp Season
3rd place: Ohio Dreams Swag bag, including T-Shirts and stickers.
Everybody who enters and plays will recieve an Ohio Dreams Sticker Pack
How to play:
Contest dates will be Monday, April 16 - Friday, April 20
The winner will be the person who FOLLOWS ALL THE DIRECTIONS EXACTLY AND HAS THE BEST CAPTIONS.
You may register for the contest any day between Today and Friday April 20 by filling out our registration form.

REGISTRATION FORM

You may enter the contest at anytime before the contest ends, all you have to do is make captions on (and share) all the pics in the contest.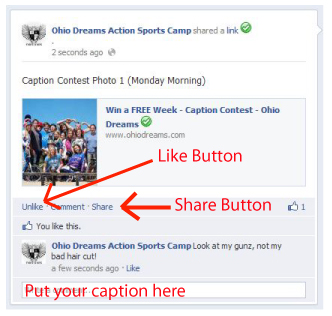 Make a comment and then make it viral
You must "Like" the Ohio Dreams Facebook page

www.facebook.com/ohiodreams

Each photo will be on our website and the link to the photo will be placed on Facebook.
Each photo will be clearly labled as "Caption Contest Photo" and will be numbered. There will be 10 photos total.
All comments must be made on the photo links on our Facebook Page.
You must hit the "share link" and share each photo to your wall after you have made your comment.
You must hit the "like" button on the link
Make a caption for each photo each day, your captions must be on our Facebook Page (Two photo's a day will be posted, one at 8am and one at 8pm, but you can comment anytime!)
We will check to make sure you have followed all of the steps for each photo before we give a way the free week!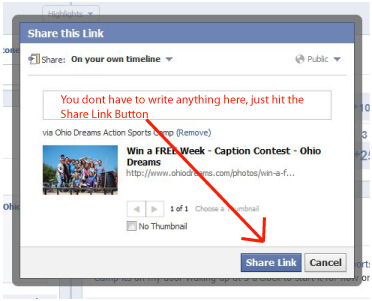 The winner will be chosen, notified and announced on Monday, April 23, 2012
Your Free week must be redeemed for one of the 8 Sessions Available durning the summer of 2012.
« Back to News