District Spring Scooter Jam Results
April 14, 2014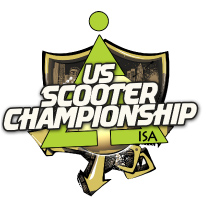 First off we would like to thank all of the amazing sponsors that made this happen, without them such a great contest would never have happened. Please be sure to show them the support and loyalty they showed you this weekend. Even if you couldn't make it to the contest, these companies are supporting the industry and making it possible to keep growing such a great sport.
Also we would like to thank the ISA, Dave Ward, Announcer Jake "the hype" Hershey and our Judges Dom Marconi, Matt Dibble, Tyler and their +1. (We never knew his name as he was a ride along for the fun with the judges and they only would introduce him as +1, so to whoever you are, here's a shout out.
Finally we want to thank all of the competitors and parents for making the trek to spend your weekend with us. We did our best to accomodate everybody like family, took notes on things we can do to improve and can't wait to have a bigger, better Spring Jam next year!
Below are the results for pro's and amateurs and the raw footage of the Top 3 Pro runs and then a video of the rest of the pro field. Coming soon will be the Amatuer runs and a highlight video of the comp so be sure to check back later this week.
| | | | | | | |
| --- | --- | --- | --- | --- | --- | --- |
| | Final Results - Pro | | | | | |
| | | | | | | Best Run |
| Ord | Name | Hometown | Age | Run 1 | Run 2 | Final Score |
| 1 | Cam Ward | Corona | 17 | 66.67 | 79.33 | 79.33 |
| 2 | Bransyn Smith | Chino Hills | 17 | 75.67 | 62.67 | 75.67 |
| 3 | Justin Phillips | Toms River | 18 | 70.00 | 72.67 | 72.67 |
| 4 | Elajwon Esperance | Kearny | 15 | 66.00 | 70.00 | 70.00 |
| 5 | Jonmarco Gaydos | 0 | 0 | 69.67 | 68.00 | 69.67 |
| 6 | Ryan Kingsley | Toms River | 15 | 67.00 | 62.33 | 67.00 |
| 7 | Jon Cross | Westlake | 16 | 49.67 | 65.33 | 65.33 |
| 8 | Bobby Rivas | Las Vegas | 17 | 64.33 | 60.67 | 64.33 |
| 9 | Jason Salajcik | Brook Park | 16 | 52.67 | 63.33 | 63.33 |
| 10 | Dennis Esposito | Long Island | 16 | 52.33 | 62.00 | 62.00 |
| 11 | Sean Pierce | Brick | 15 | 61.33 | 55.67 | 61.33 |
| 12 | Brendon Jones | 0 | 0 | 41.33 | 59.33 | 59.33 |
| 13 | Shaun Staepel | Corona | 18 | 55.67 | 59.00 | 59.00 |
| 14 | Jordie Robinson | Towson | 19 | 51.00 | 59.00 | 59.00 |
| 15 | Kelly Zmijewski | Southgate | 22 | 53.67 | 58.33 | 58.33 |
| 16 | Brody McMaster | Towson | 18 | 53.67 | 52.00 | 53.67 |
| 17 | Kyle Tolentino | Toms River | 18 | 52.67 | 0.00 | 52.67 |
| | | | | | | |
| --- | --- | --- | --- | --- | --- | --- |
| | Final Results - 16+ Advanced | | | | | |
| | | | | | | Best Run |
| Ord | Name | Hometown | Age | Run 1 | Run 2 | Final Score |
| 1 | Brandon Jones | 0 | 0 | 60.67 | 61.00 | 61.00 |
| 2 | TJ Detkowski | Clarkston, MI | 16 | 50.33 | 44.00 | 50.33 |
| 3 | Arnold Leone | Brick, OH | 20 | 35.67 | 46.00 | 46.00 |
| 4 | Cameron Mueller | Commerce, MI | 17 | 21.67 | 24.67 | 24.67 |
| | | | | | | |
| --- | --- | --- | --- | --- | --- | --- |
| | Final Results - 11-15 Advanced | | | | | |
| | | | | | | Best Run |
| Ord | Name | Hometown | Age | Run 1 | Run 2 | Final Score |
| 1 | Jon Marco Gaydos | Brick, NJ | 11 | 63.00 | 54.67 | 63.00 |
| 2 | Ryland Smith | 0 | 0 | 47.00 | 51.33 | 51.33 |
| 3 | Colin Dubois | Sandusky, OH | 12 | 40.67 | 41.67 | 41.67 |
| | | | | | | |
| --- | --- | --- | --- | --- | --- | --- |
| | Final Results - 11-15 Intermediate | | | | | |
| | | | | | | Best Run |
| Ord | Name | Hometown | Age | Run 1 | Run 2 | Final Score |
| 1 | Spencer Raschke | Davisburg, MI | 15 | 34.33 | 35.33 | 35.33 |
| 2 | Will Kenney | Bay Village, OH | 14 | 31.00 | 32.33 | 32.33 |
| 3 | Tyler Minton | Waterford, MI | 14 | 32.33 | 23.00 | 32.33 |
| 4 | Ralph Spinelli | Bay Village, OH | 14 | 31.33 | 29.33 | 31.33 |
| 5 | Travis Ridings | Trenton, MI | 15 | 30.00 | 27.00 | 30.00 |
| 6 | Andrew Nickless | Holt, MI | 13 | 29.67 | 20.67 | 29.67 |
| 7 | Jake Anderson | Selinisgrove,OH | 15 | 22.67 | 28.00 | 28.00 |
| 8 | Mark Olson | Clevland, OH | 14 | 26.00 | 17.00 | 26.00 |
| 9 | Carson MIller | Lake Orion, MI | 14 | 18.67 | 26.00 | 26.00 |
| 10 | Edward Netzel | Parma, OH | 14 | 21.00 | 18.67 | 21.00 |
| 11 | Brendan Gabbard | Garden City, MI | 13 | 18.00 | 19.00 | 19.00 |
| 12 | Cameron Miller | Lake Orion, MI | 12 | 18.33 | 19.00 | 19.00 |
| 13 | Zach Dotson | Parma, OH | 14 | 15.67 | 11.33 | 15.67 |
| 14 | Justin Walters | Parma, OH | 14 | 11.67 | 14.33 | 14.33 |
| 15 | Sabastian Nunnally | Southgate, MI | 14 | 11.67 | 12.00 | 12.00 |
| 16 | Ryan Warner | Bellville, OH | 10 | 8.67 | 9.67 | 9.67 |
« Back to News