Adventure Camp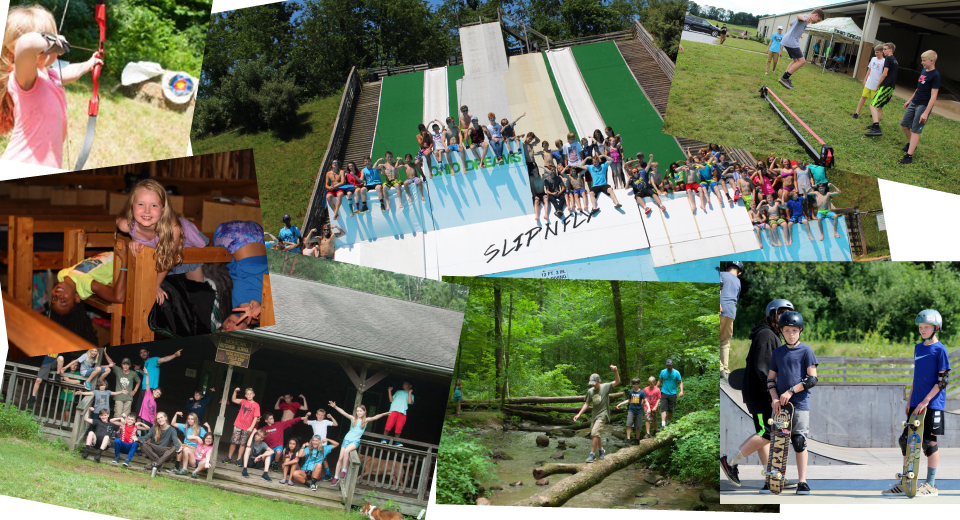 Click for deals, news and early registration discounts.
Adventure Camp at Ohio Dreams is the perfect way to enjoy traditional summer camp, with a twist.
Why choose one sport? Adventure Campers will be able to participate and learn about multiple sports and outdoor adventures.
We provide the equipment and the schedule so you can start from scratch and learn from the best.
Add in Outdoor Adventure and Education, and geared towards the new comer who may lack experience but makes up for it with the spirit for Adventure.
---
Athletics, Creativity, Science, Knowledge and Social Skills are the backbone of our camp. We offer a wide variety of activities for campers that are full of energy and curiosity.
Campers (with the help of parents if needed) are given choices for each period that will create the summer camp schedule of their dreams.
Click for deals, news and early registration discounts.
Morning Athletics - Action Sports Descriptions
Learn Skateboarding: Learn the basics of skating from balancing, dropping in and even a few tricks.
Learn Mountain Biking: Hop on one of our Mtn Bikes and take a few laps on our three mile beginners cross country trail through the woods or learn the basics of jumping on our Freeride courses.
Learn Scootering: Grab a Scooter and quickly learn hops, whips, spins and ramps.
Learn BMX Race: Dream of going to the Olympics? Maybe BMX Racing is in your future. We will teach you how to navigate the track and win a race right from the start.
Learn BMX Freestyle: Maybe racing isn't for you, but you think you might enjoy just catching some air on a bike. Our beginner jump trails and skate parks are perfect for you.
Morning Athletics - Outdoor Adventures Descriptions
Archery: Learn the safety and techniques it takes to hit the bullseye.
Hiking / Outdoor Education: Pack a snack and hike to beautiful waterfalls, caves, and rock outcroppings left behind by receding glaciers all while learning how to identify poison ivy, invasive plant species, and many different wildlife animals.
Canoeing: Learn to safely canoe in our pond and maybe even take a trip down the Clearfork River.
Orienteering / Obstacle Course: Learn to use a compass, read a map, and beat the other teams as you race through our course to each obstacle requiring team work to make it to the end.
Fishing: While fishing in our pond, campers will learn what kind of fish they can catch and eat, how to bait, and even how to prepare it for the grill.
Pool / Slip N Fly
Swimming games
Small Slip N Fly
Large Slip N Fly
Creativity and S.T.E.M.
Intro to Media Production: Our media team will guide campers through important information for any aspiring photographer/cinematographer such as framing, lighting, composition, lead space, and more.
Build and Launch a Model Rocket: Learn about pressure, propulsion, and aerodynamics while building a rocket to launch in our field.
Paint a Landscape: A canvas, a brush, and an instructor will guide a group through painting a landscape. When finished, campers will have a painting they can hang on their wall as a memory of the best summer of their lives.
Build a Flying Lantern: Learn about gas molecules and their reaction to heat while building a lantern that will be flown on Thursday night to the delight of all campers.
Build and test a catapult: Think you have what it takes to hit the target? Build and test a catapult with your group to be launched in our field.
Afternoon Athletics
Slack-line balance and tricks: Can you make it through our Slack-line course. What if you had to jump from line to line?
Trampoline games: How good is your aerial awareness? Learn the basics and then graduate to adding some flips.
Beach Volleyball: Everybody should know how to jump in a game of pick-up volleyball at the beach. Learn about where to be and how to pass, set, and hit the ball to win.
Disc Golf: Spend a relaxing afternoon with new friends playing on our Disc Golf course.
Intro to Hula Hooping: A great work out, hula hooping takes amazing coordination, endurance and focus, and did we mention it's super fun?!
Swimming Lessons: If your camper isn't the best at swimming, this week-long program will help them to find their sea legs (and arms) so they will have more confidence when swimming.
Free time Options
After dinner each day, campers are also able to choose the sport/awareness station of their liking and enjoy free time to further explore the activity.
Evening Activities
Evening Activities are designed as a way for campers to unleash any remaining energy they have in the form of team field games and contests.
| Parents | Rates and Dates |
---
Click for deals, news and early registration discounts.
Use the Activities List to fill in the Daily Schedule to create an experience that is exclusive to you.
ACTIVITIES LIST
| | |
| --- | --- |
| Morning Athletics - Action Sports | Days Offered |
| Learn Skateboarding | Monday |
| Learn Mountain Biking | Tuesday |
| Learn Scootering | Wednesday |
| Learn BMX Freestyle | Thursday |
| Learn BMX Racing | Friday |
| | |
| Morning Athletics -Outdoor Adventures | |
| Archery | Monday |
| Hiking / Outdoor Education | Tuesday |
| Canoeing | Wednesday |
| Orienteering/ Obstacle Course | Thursday |
| Fishing | Friday |
| | |
| Creativity and S.T.E.M | |
| Intro to Media Production | Mon, Thur. |
| Build and Launch a Model Rocket | Tues, Wed. |
| Paint an Ohio Dreams Landscape | Wed, Fri. |
| Build a flying lantern | Tues, Thurs. |
| Build and test a catapult | Mon, Fri. |
| | |
| Afternoon Athletics | |
| Slackline Balance Skills | Mon, Tues. |
| Trampoline Games | Tues, Wed. |
| Beach Volleyball | Mon, Wed. |
| Intro to Weight Room/Calisthenics | Thurs, Fri. |
| Intro to Hula Hooping | Thurs, Fri. |
| Swimming Lessons | All Week Option |
| | |
| Free time Options | |
| BMX Racing | Everyday |
| BMX Freestyle | Everyday |
| Scootering | Everyday |
| Mountain Biking | Everyday |
| Slackline | Everyday |
| Trampoline | Everyday |
| Obstacle Course | Everyday |
| Lounge Games / Socialize | Everyday |
| | |
| Evening Activities | |
| Dodgeball | Mon, Tues. |
| Kickball | Tues, Wed. |
| Capture the Flag | Mon, Wed. |
| Slip N Fly Contest | Thursday |
| Parents Night | Friday |
DAILY SCHEDULE
| | |
| --- | --- |
| Time | Activity / Options |
| 7:30am | Rise, clean dorm |
| 8:00am | Breakfast |
| 9:00am | Morning Athletics: Campers may choose either an Action Sport or an Outdoor Adventure based on the day. |
| 10:15am | Snack Break |
| 10:45am | Morning Athletics Continued |
| 12:00pm | Lunch |
| 1:00pm | Rest Period at dorms: Campers may read, write letters, play cards, or nap but this is a period to refresh for the rest of the day. |
| 2:00pm | Pool / Slip N Fly |
| 3:00pm | Creativity / S.T.E.M.: Campers choose an activity / learning experience from the daily options. |
| 4:00pm | Snack Break |
| 4:30pm | Afternoon Athletics: Each day there are two choices of supportive athletics that campers may attend. |
| 5:30pm | Dinner |
| 6:30pm | Free time: Campers may float between offered activities to learn more or even experience for the first time if they have not tried it out yet. |
| 7:45pm | Snack Break |
| 8:00pm | Evening Activity: Campers may choose their activity Mon - Wed. Thursday and Friday all campers are together. |
| 9:00pm | Return to Dorms to Shower and prepare for lights out. |
| 10:00pm | Lights out. |
---
| Parents | Rates and Dates |