General Festival Rules and Info
General Ohio Dreams Rules and Regulations
---
STRICT RULES:
NO GLASS CONTAINERS. PUT IT IN PLASTIC OR LEAVE IT HOME
NO FIREWORKS, EXPLOSIVES OR WEAPONS
RESPECT OTHERS AROUND YOU AND OUR PROPERTY - NO FIGHTING
CLEAN UP AFTER YOURSELF - CARRY IN/CARRY OUT
---
AGE LIMIT:
Some of our events have age limits. Each event is unique
You must show a valid government issued ID to enter. No Exceptions.
TICKET INFORMATION
Tickets are usually not available at the gate unless otherwise stated
All tickets are print-at-home tickets. If you are unable to find your email with your ticket in it please email tickets@ohiodreams.com to have your ticket reissued
No Refunds - Tickets are Transferable
All events are rain or shine
---
WEATHER INFORMATION
The festival is rain or shine.

The Slip N Fly does not close due to rain.

If there is thunder or lightning the Slide / Pool area will close for 30 minutes from the last sound/sighting.

The stage is covered and bands will play unless there is very heavy rain.
---
ENTRANCE INFORMATION
All patrons must follow the map exactly in-order to gain admittance to the festival.
There is no overnight parking on the roads around the camp.
If you come from the wrong direction, you will be asked to turn around and go to the end of the car line.
The car line up and entrance will be in a field adjacent to the parking lot.
Cars may start lining up only two hours prior to event. If people line up earlier they will be asked to leave.
If the car line up overflows onto the road, please be respectful of our neighbors.

Do not block their driveways
Allow traffic to pass you
Do not litter, keep your trash in your car
Do not go to the bathroom on the side of the road

Patrons must enter the car line up by following:

95 East out of the Village of Butler.
Take 95 East to Bunkerhill rd
Turn right on Bunkerhill Rd
Turn right on Tugend Rd
Turn right into Ohio Dreams Drive
---
PARKING / ARRIVAL INFORMATION
Ohio Dreams is a private facility
There is no early admission for any reason
Before reaching the main parking gate, patrons will need to show tickets, sign waivers and may be subject to a search. Remember No Glass containers, Firearms or weapons of any kind are permitted.
---
CAMPING INFORMATION
Camping is very primitive, there is no water or electricity
No more than 3 tents per camp site.
Camping in marked sites only, no camping in the woods
Fires must be in fire rings, you may bring your own or purchase one from the Ohio Dreams vendor. Cost: $40
No vehicles are allowed in the camping area. It is roughly a 600' walk from parking to camping (as seen on the map)
Showers are available at larger/longer events: $5/5min
RV / Camp Trailer Parking is a separate area. No Tents

of any kind

are allowed in the RV area.
General Festival Map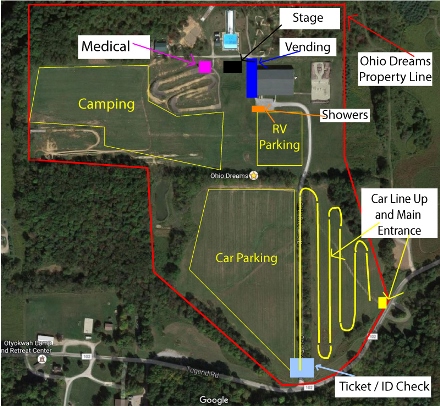 Click to enlarge map
---
SLIP N FLY INFORMATION
Disclaimer
The Slip N Fly is Dangerous - Use of The Slip N Fly is at your own risk.
The top of The Slip N Fly is 14 feet off the surface of the water. Depending on the person you can reach heights of 14 to almost 30 feet over the surface of the water. Landing in water from this height can be painful and cause bruising, injuries or death.
If you do not feel comfortable with accepting this risk do not use The Slip N Fly
Slip N Fly Instructions
Participants my enter/exit the slide/ramp in the body position of their choice, however the following method is recommended when starting out.
Start at the top by diving head first down the slide, keeping your arms underneath you as to prevent your head from making contact with the slide.
By going down the slide head first you will come off the ramp in a head up, almost standing position.
When you come off the end of the slide look at tops of the trees on the furthest hillside you can see where they appear to touch the clouds. This will help to orient you in a vertical position allowing your feet to enter the water first.
No diving into the pool is allowed at anytime. All efforts must be made to enter feet first.
If you do not feel you are able to follow these instructions, have doubts or worries, we encourage you to not use The Slip N Fly.
If you are pregnant or have heart or health situations that may limit your ability; to have a general awareness, your ability to swim or hold your breath underwater, support yourself on the slide or ramp, or cause increased chance of injury or further injury it is up to you to choose not to use The Slip N Fly.
---
AMENITIES AND VENDORS AT OHIO DREAMS
Festival attendees are able to bring in coolers with their own food and drinks.
Bring Your Own Beer is allowed at some events.
No Glass Bottles
There are

various

vendors serving hot food and non-alcoholic beverages as well.
---
OHIO DREAMS GENERAL STORE
Festival T-Shirts: $20
Ice: $5/bag
Firewood: $5 bundle OR $1/log, $.50/starter wood.
Firerings: $40
---
ADDITIONAL RULES
Respect
This event is meant to be a good, positive time. The best way to ensure this happens is to respect each other and our facility. Violence and/or vandalism with result in an immediate ejection from the property.

Please be patient in the car line
We will be checking people in at the gate as fast as we can and directing them to the appropriate parking areas. If you are able to, please CAR POOL to save space, time and congestion. Overnight parking along public roads is not permitted. Please follow the signs located along the highways as you near the site.

Vehicle Inspection
Weapons are not allowed on our property. Once you enter our property we will be randomly searching vehicles before they are checked in. If you refuse to allow us to search your vehicle, you will not be admitted.

Parking - Be prepared to hike
Parking will be a separate area from camping. Vehicles will not be allowed to drop anything off at the camping area, nor allowed to drive anywhere in or on the facility other than the parking lot.

Wrist bands
Wrist bands will be given out to all entrants at the gate. These wrist bands must be worn at all times, if you are found without a wristband you will be asked to leave the facility by our security.

Aerial Drones
No Aerial Drones are allowed to be used without our express written permission and business liability insurance.

Pets
Pets/animals are not allowed. If you are found with a pet, you will be asked to leave the facility.

Food / Vendors
You are allowed to bring your own food, we will have food vendors on site and Ohio Dreams will be selling water and Gatorades near the medic tent.

Fires
Campfires will be allowed, please exercise proper caution. You may bring your own firewood, but we will be selling wood as well at our concession stand. Fire rings are required, you may bring your own or purchase one from us for $40

RV/Campers
We will have separate parking for RV's/Campers, it will be in the parking lot area and not near the tent campers, tents will not be permitted around RV's/Campers as we may have to park tight due to space restraints.

Alcohol
Attendees are allowed to bring their own Alcohol.

Exit Gates
Anyone wishing to leave the concert area may do so at anytime. Please remember that we are located on a narrow back road and there will be high amounts of congestion until everyone is checked in. We recommend stopping at our local gas station or dollar store to pick up any last minute supplies before you arrive. State law prohibits anyone from leaving the concert area with any opened container. Please discard them in the trash before entering or leaving the venue.

For Safety's Sake
Our annual rules for everyone's safety and enjoyment:
Absolutely NO glass containers, metal flagpoles, firearms, fireworks, motorized all-terrain vehicles, motorized carts or dollies are permitted. Vehicles will not be allowed out of the parking area.
Fire lanes must remain free and clear of all objects, obstructions and vehicles.
Unauthorized vehicles in these lanes will be towed at the owner's expense.

Designated Drivers
Ohio Dreams supports the Designated Driver concept! We urge you to decide in advance who will be your group's designated driver. PLEASE: DON'T DRINK AND DRIVE!

Weather
The weather is usually sunny, with temperatures in the high 80's. We advise you to use lots of sunscreen and drink plenty of water! Be prepared for sudden summer rains. The show will go on if at all possible! If the conditions deteriorate to the point that the public's safety is at risk, the show may be delayed or canceled for that day. Please listen to the directions given by announcers and security during such times.

Security
Security personnel are on duty around the clock throughout the grounds for the entire event. Your cooperation with them is greatly appreciated! Please report any incident to an Event Staff employee.

First Aid
The Medical Station is located under a white tent on the festival side of the main building and is staffed and equipped to handle minor injuries, accidents and other emergencies. Over the counter medicines will not be provided at the Medical Facility.

Laws
We respect the law at Ohio Dreams. All local, state and federal laws are to be obeyed.
Use of any illegal drugs, drunken and/or obnoxious behavior and activities will not be tolerated.
All persons attending Festivals on Ohio Dreams Property do so at their own risk. No liability is assumed by owners, managers, promoters, sponsors or others.
Please do not trespass, litter or block our friendly neighbor's driveways.
Anyone found to be in violation of any law or regulation may be subject to prosecution and will be evicted from the event without refund of your ticket.

Trash
For health and safety reasons, please contain all trash in plastic bags and receptacles.

Can I use my generator?
Please be considerate of your fellow campers. Generators may be run between 7am and midnight and must be attended while operating. Unattended running generators will be shut down.