CONTEST SERIES
January 9, 2015
The Battle for the Midwest BMX Contest Series has expanded this year to include 4 parks this year.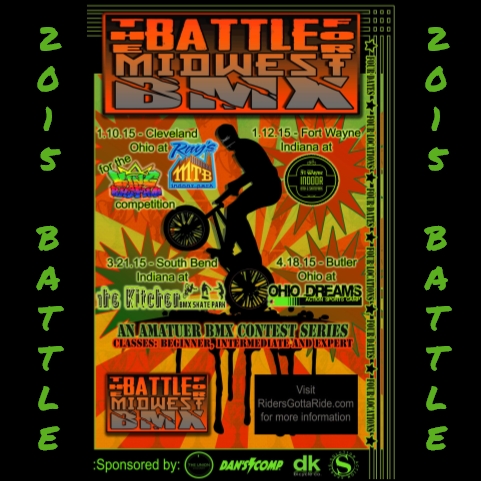 Two new parks have been added to the series this year. The first addition is a stop at Ray's MTB where points for The Battle for the Midwest series will be earned at the Rookie of the Year Contest. The second addition is Ohio Dreams in April where the Series Finals will be held.
Battle for the Midwest Info
After the stop at Ray's the Series continues as follows from the www.ridersgottaride.com website.
"Take note of this 2015 RidersGottaRide.com Contest Series will be taking place! Here are the preliminary dates for each contest. Keep your eyes peeled for more information coming soon!
January 10, 2015 - Rays MTB Cleveland, OH -AM Contest "Rookie of the Year" from 3-6pm with Pro/ Open bringing back the (KOR) KING OF RHYTHM in the Rhythm Room 6-9pm $30 Pro Open Entry - Cash Payout
February 14, 2015 - The Fort Wayne, Indoor, Fort Wayne IN - AM classes Only - Park Opens at 10:30am - Contest Starts at 1pm
March 21/22, 2015 - The Kitchen BMX & Skatepark - Pro/AM South Bend, Indiana - AM , GIRLS, PRO/OPEN -Times TBA
April 18, 2015 - Ohio Dreams Action Sport Camp - Butler, Ohio - Amateur Classes and Final Points Round Up. -Time TBA
More Information Comings Soon! SAVE THE DATES!
« Back to News